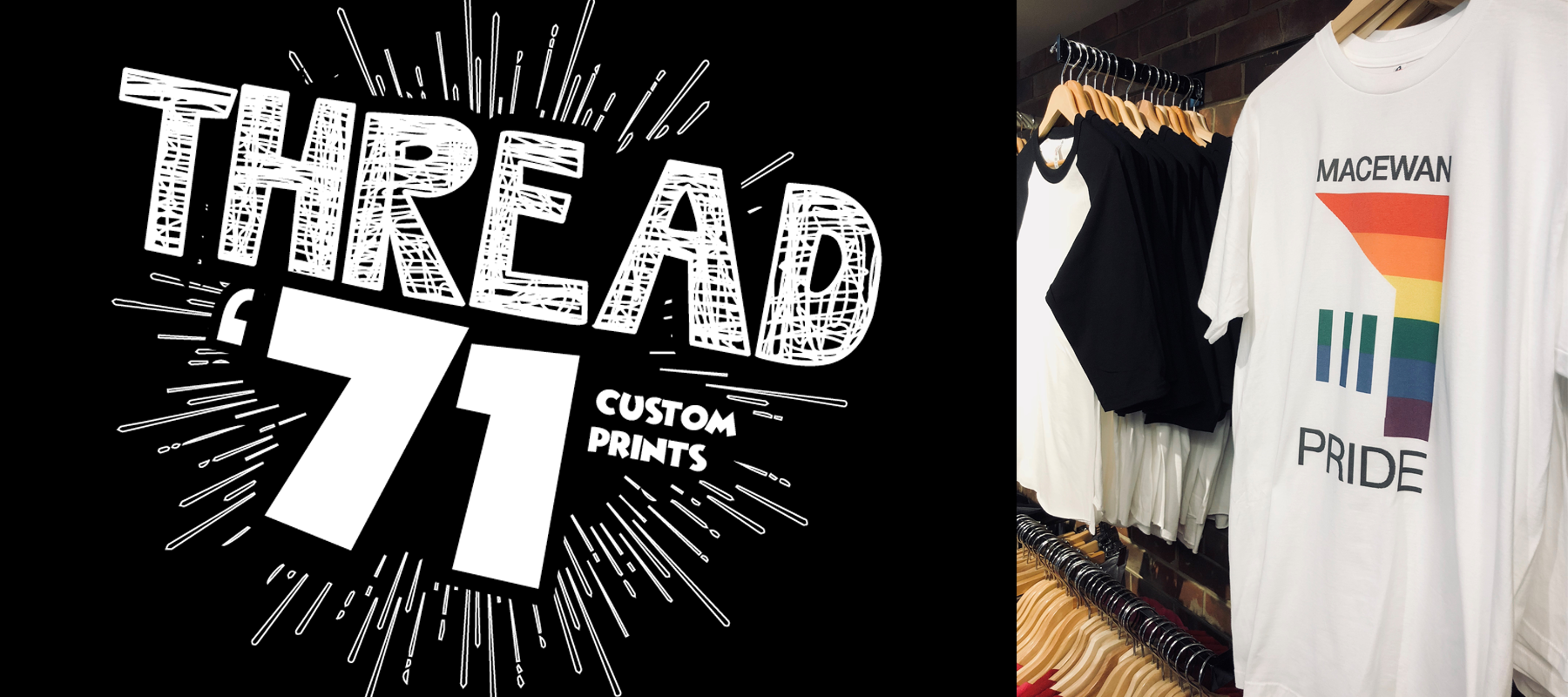 Thread '71 is your one stop shop on campus for custom shirt prints. Whether you're a student, staff, or faculty member we can print your design made by you, for you.
Payment – All custom shirt printing orders must be paid in full by the client before we begin the printing process. Prices start at $15. All sales are final.
The Shirt – We have t-shirts, tanks, and 3/4 sleeve baseball shirts. We can only print on lighter colored shirts. Color options: white, heather grey.
Can you bring in your own shirt? – Yes but we have some conditions. We require the shirt to be 100% cotton. The nature of ink to garment means that mistakes do happen during the printing process and we can't promise that your shirt will print perfectly the first time. Meaning you will have to be willing to accept the imperfect shirt or provide a back up. We reserve the right to refuse printing on any shirt we feel isn't appropriate for our printer.
The Image – We recommend that design content be submitted at 300 dpi resolution or higher and sized to actual print size. Acceptable formats are PNG, JPEG, EPS, AI, and PSD. It is up to the client to decide where they would like the image printed on the shirt. If no information is given we will print it in standard format, which is 3" - 4" below the collar on the chest of the shirt. We will do our best to give a preview of what the image will look on the shirt, however some monitors display colors differently then how they will print on the shirt. Unless requested by the client, we will not alter the color of the image prior to printing.
Image Copyright – MacEwan University Branding: if you would like to use any of MacEwan University's branding written approval is required from the Office of Communications and Marketing. We reserve the right to refuse any design content that infringes on any trademark or copyrights and does not adhere to MacEwan University's Code of Conduct. All design content is the responsibility of the client.
How long will it take? – Most small jobs can be completed in a day or two. For larger or more complicated orders, please inquire with our custom shirt representative. We will do our best to complete it by the clients requested deadline however we reserve the right to extend the pick up time due to unforeseen circumstances.
Do you want to order multiple shirts? – Chat with us and we can decide if ink to garment is the right choice for your order.
Need more information? Send us an email at bookstore@macewan.ca